The known "skyscrapers of the sea" will be banned from Venice's historic center after the Italian government said that it's ready to resolve the bitterly divisive issue that provoked an international campaign.
The government is planning to create an alternative route for the massive ships.
Those massive ships has already provoked many environmentalists and residents concerned about its impact on the Venice's fragile environment.
Cruise ships currently pass within 1,000 feet of Venice's St. Mark's Square (Piazza San Marco), giving passengers spectacular views.
Last year the port of Venice said that is going to ban liners of more than 96,000 tonnes but the decree was overturned by a regional tribunal.
Recently British stars Sir Michael Caine and Julie Christie joined dozens of celebrities who signed a petition in order to ban the massive cruise ships from Venice.
Now the government has restored the ban which will block all cruise ships exceeding 96,000 tonnes from Saint Mark's basin and the Giudecca Canal from 2015 and also many visits by smaller ships of no more than 40,000 tonnes.
VENICE DEVOURED | a look at the detrimental effects the cruise industry has had upon Venice, Italy
Press Release: for immediate release
Key West and Venice Activists Unite to Stop Larger Cruise Ships
Key West, FL September 1, 2013:  Two iconic tourism destinations, intent on preserving their unique histories and natural environments, have joined forces. No Grandi Navi (No Big Ships) in Venice (Italy) and the Key West Committee for Responsible Tourism, (KWCRT)  issued a joint resolution  which strives to reduce the impacts of larger cruise ships.  Both internationally renowned destinations are overwhelmed by cruise ships, whose sheer mass and capacities threaten and overburden their delicate natural and built environments.
The "Comitato No Grandi Navi" (No Big Ships), Venice, and the "Key West Committee for Responsible Tourism,"  issued the joint resolution which recognizes the numerous negative impacts that the ever-larger cruise ships visit on their respective cities and resolves to "educate the public on the dire need to limit the size of vessels and number of passengers able to disembark on any single day in historic maritime ports." Also, to promote sustainability, encourage balanced use and "discourage overcrowding which detracts from the experiences of tourists and locals alike."
The resolution states that the vessels "far exceed anything that these historic ports were built to accommodate" and that "the numbers of passengers and crew overcrowd the narrow, historic streets."
Venice has been one of the top world destinations for centuries, since the advent of "The Grand Tour," which helped define modern tourism. Key West gained prominence as a tourist destination during the Great Depression in the 1930's, largely due to its popularity amongst American poets, artists and writers, most notably Ernest Hemingway, who was a storied figure at both locations.
In Venice, the largest ships threaten the health of the lagoon and their cubic displacement raises the water level in the canals. Coupled with engine vibration, critics claim that the foundations of centuries-old, historic treasures are undermined.
In Key West, ships as large as 1000 feet (5000 passengers and crew) can already enter the harbor, but voters face a referendum in October which authorizes an Army Corps of Engineers study to determine the best method to dredge and widen the entrance to allow even larger ships. The opponents argue that the combination of the dredging plus the impacts associated with the larger ships will further endanger  threatened corals and the reef, the third largest barrier reef in the world.
Jolly S. Benson, Chairman of the KWCRT, states, "both cities are seeing their culture and way of life diminished and both are seeing the very real effects these larger ships have on our sensitive ecosystems." He adds, "We are looking forward to sharing ideas, data, and our support with No Grandi Navi."
Silvio Testa, Spokesman for the Comitato No Grandi Navi  —  Laguna Bene Comune, recently told The Nation Magazine, "Cruise ships may not be entirely to blame, but they are a major component of a mechanism that is changing Venice like a gradual tide that erodes the substance of the city." In signing the joint resolution, he noted, "we need to explain to everybody that wherever these ships go, they create problems."
Ships as large as the 1000+ foot Carnival Magic are already able to dock in Key West. On October 1, Key West voters will consider a referendum to authorize the U.S. Army Corps of Engineers to study a dredging proposal that would permit even larger ships
# # #
We have recently posted two articles pertaining to the cruise industry's impact on Venice, Italy.
Jay's Blog from September 24, 2013
Protestors Jump into Venice Canal to Block Cruise Ships
In Venice, Huge Cruise Ships Bring Tourists
and Complaints
BY: Syliva Poggioli and NPR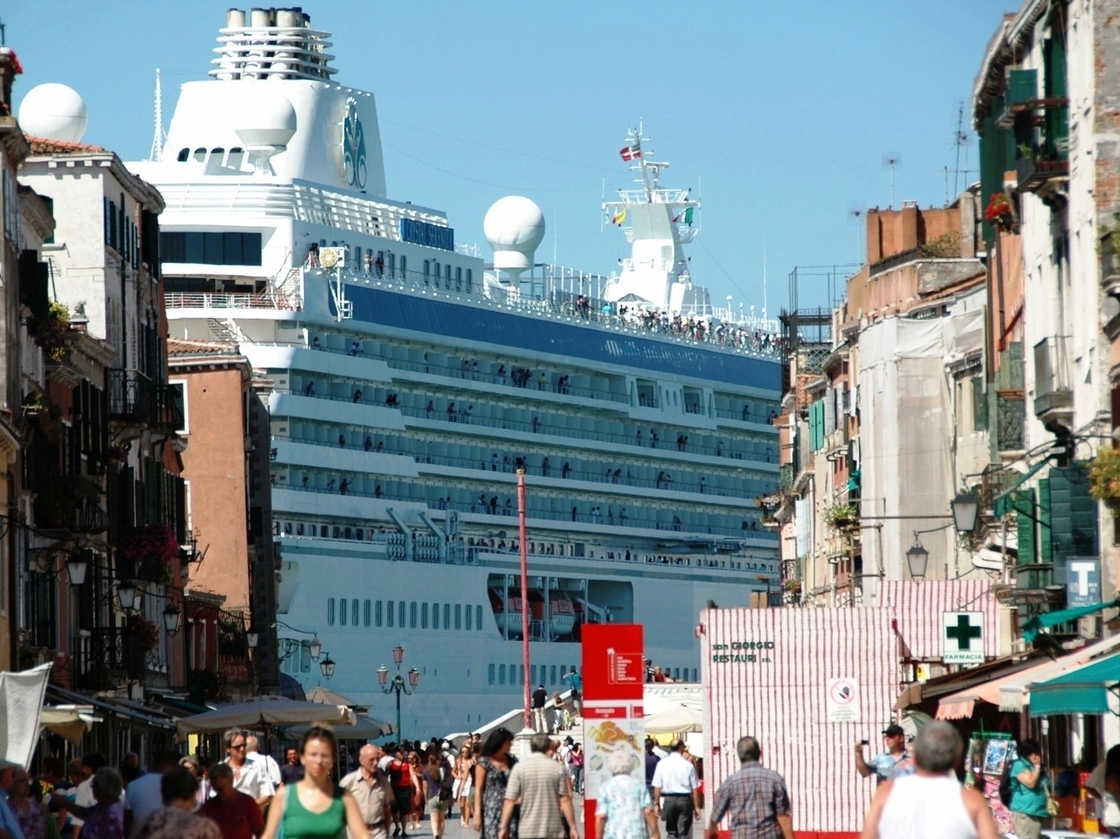 The fragile architectural treasures of Venice are endangered by rising sea levels, and a growing number of critics now say the city and its canals are at risk from massive cruise ships as big as floating skyscrapers. On an average day, tens of thousands of passengers lean over the railings of cruise ships that can be 300 yards long and 15 stories high. The tourists peer down at the majestic Doge's Palace as they sail into St. Mark's basin and down the Giudecca canal.
Matteo Casini, a professor of history, says the big ships are alien creatures and an insult to the Renaissance jewel.
"It's like being in a science-fiction movie," he says. "These monsters obscure us; they are twice the Palazzo Ducale [Doge's Palace]; they are twice longer than Piazza San Marco; they have dimensions and numbers nothing to do with Venice."
Casini complains that when big ships pass by, windowpanes tremble and vibrations lead to cracks in the walls of old buildings. He says that the towering ships interfere with television and Wi-Fi signals.
Last month, exasperated Venetians organized a three-day protest under the slogan, "Take Back The Lagoon." The high point was a symbolic boat blockade in which hundreds of people in small vessels filled the canal waving banners with the words, "No Big Ships."
"Big ships are destroying Venice," a woman lamented over a loudspeaker. A man followed her, proclaiming, "Each big ship spewing black smoke pollutes the equivalent of 14,000 cars, moves 135,000 tons of water and destroys the foundations of Venetian buildings."
A Rapid Rise In Cruise Ships
Cruise ship tourism in Venice has gone from under 100,000 passengers in 1999 to 1.8 million in 2011. More than 650 big ships arrive annually.
Six ships docking at the lagoon terminal can disgorge in one day more than half the city's population of 55,000.
Casini, the history professor, says these rapidly growing numbers of tourists are causing irreparable harm.
"Tourism cannot alter the nature of the city and the lagoon, cannot transform it into a Disneyland," Casini says. "Venice is not a Disneyland."
But tourism is the bedrock of Venice's economy and not everyone here wants the ships kicked out of the lagoon.
"When there are boats in, you can feel the difference — boats make that difference, that 15-20 percent difference. You feel it, there is no doubt about it," says Paul Pattison, who is half-British, half-Venetian. He acknowledges that his family's blown-glass factory is profiting from the cruise ships.
He dismisses the negative psychological impact of seeing the big boats tower over the city.
"I find it fantastic," he says gleefully. "It's almost like reliving a Fellini film every single day, and that's great."
It's hard to get reliable data on just how much the cruise industry brings into city coffers. Many critics claim that by living onboard, ship passengers just buy some souvenirs and so hotels and restaurants do not profit from their presence.
Economic Benefits
One organization that has reaped benefits is the Venice Port Authority, which manages the docks. Its head, Paolo Costa, says the cruise industry has created 6,000 jobs. He says saving Venice does not mean just saving its monuments.
"We have to protect even the life in Venice," says Costa. "It's not just some trivial jobs; it is the essence of Venice. Venice without a port does not exist. Venice was a historic maritime republic."
Costa wants to widen an existing canal in the lagoon to prevent ships from passing too close to historical buildings.
But Anna Somers Cocks, former chairman of the Venice in Peril Fund, says that would cause serious damage to the lagoon's delicate ecosystem.
"Because it contributes to the creation of a very strong current where there is a low tide which sucks out sediment from bottom of the lagoon," says Somers Cocks. "And the lagoon used to be quite shallow and very still and it is now getting very deep because it is losing sediment the whole time out into the Adriatic Sea."
Opposition to the big ships grew after the Costa Concordia cruise ship ran aground off a Tuscan island 18 months ago, killing 32 people.
That prompted a government ban on big ships' sailing too close to the coast. But the decree was suspended for Venice until an alternative could be found.
In response to the growing outcry against big ships, the Italian government, the municipality and the Venice Port Authority have finally agreed to search for alternative solutions. They're scheduled to meet in Rome on July 25.
We are Marking Calendars for 7/25!
Venice Looks to Calm Cruise Ship Waves as officials Aim to Come Up With Proposals by Late July for Rerouting Cruise Ships From City Center
By GIOVANNI LEGORANO, The Wall Street Journal, June 20, 2013
VENICE—On a recent day here, a half-dozen giant cruise ships sidled by St. Mark's Square as they entered the famed Giudecca Canal, offering their 35,000 passengers a thrilling, up-close view of one of Europe's architectural treasures.
But the rising traffic has raised serious concerns about the pollution that the ships—branded "floating skyscrapers" by opponents—bring to the lagoon, and about potential damage from their heavy wakes to the delicate foundations of the majestic, waterside buildings.
read entire Wall Street Journal article: http://online.wsj.com/article/SB10001424127887323300004578557293160084744.html?KEYWORDS=Cruise+ships+in+Venice
The Coming Death of Venice
by Anna Somers Cocks
An in-depth study into the effects of cruises ships on this historic Italian city.
Click to view the pdf: https://www.charlestoncruisecontrol.org/assets/coming-death-of-venice.pdf
Venice Video: huge Cruise Ship Costa Fascinosa passing-
UNESCO calls for restrictions on cruise line traffic in Venice following Costa Concordia disaster, UNESCOPRESS, 23.01.2012
UNESCO has called on the Italian government to restrict access of large cruise ships to culturally and ecologically important areas, particularly Venice and its Lagoon which are visited by some 300 large cruise ships a year.
In a letter sent to the Italian Environment Minister on behalf of Director-General Irina Bokova, the Assistant Director-General for Culture Francesco Bandarin writes that "the tragic accident [of the Costa Concordia on 13 January] reinforces longstanding concern over the risk that large cruise liners pose to sites inscribed on UNESCO's World Heritage List, particularly the Venice Lagoon and the Basin of San Marco."
After presenting UNESCO's condolences for the tragic loss of life caused by Costa Concordia accident and praising the efforts of the rescue teams and local population in dealing with the disaster, the letter urges the government to act quickly to develop alternative plans for maritime traffic around the World Heritage site of Venice.
The cruise liner traffic in Venice is particularly damaging because of the fragile structure of the city. The ships cause water tides that erode the foundations of buildings. They contribute to pollution and impact the cityscape as they dwarf monuments in the heart of the city.
****
Media contact:
Roni Amelan, r.amelan(at)unesco.org +33 (0)1 45 68 16 50
Venice rebels against cruise ship intrusions
By COLLEEN BARRY – Associated Press
STATE, February 5, 2012
Venice, the cruise ship haven, prepares to rock the boat , The Sydney Morning Herald, December 13, 2011, Nick Squires, Rome.